Are you tempted to try out bright and bold colors this fall but are concerned that they will overwhelm you? Maybe you have one or two bright pieces in your closet and just aren't sure how to wear them to your yoga class. If you've been trying to figure out what to do with bold yoga leggings, color blocking may be the best way to let your workout clothing pop this fall.
Color blocking is an old trend that still surfaces among modern fashion-conscious yogis. Learning the many ways to incorporate this style into your yoga wear is a classic way to make the most of the articles of clothing you already own. Open wide the doors of your closet to see what you can do with color blocking now.
Match Different Shades of the Same Color
Do you have lots of shades of orange in your closet? One of the easiest ways to color block is to keep your top half and bottom half separated, but only by a few shades. For example, you may wear your yoga leggings in the deepest shade of burnt orange but pair it with a looser top in a creamier orange.
A monochromatic color scheme is a simple and effective way to pull off bold colors during the fall. Yoga wear is especially adaptable to this strategy because of the many shades of yoga leggings available in stores today.
Keep Your Colors Separate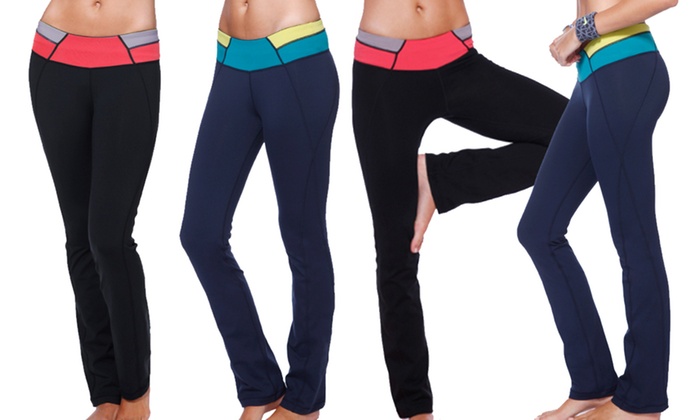 Do you have bright yoga leggings and aren't sure how to wear them? A tip to help you figure out how to color block is to limit your wardrobe to only one bright shade. A pair of cerulean yoga leggings can be paired with a charcoal grey tunic sweater and a black scarf. Let the blue leggings speak for themselves without the need to compete with the other colors in your outfit.
Similarly, you can swap the colors so that your top half features the bold color while your yoga leggings remain neutral. This is a simple way to keep the black yoga leggings and yoga pants in your closet while rotating out seasonal shades in t-shirts and sweaters.
Choose Colors Next to Each Other on the Color Wheel
Many yogis have been required to take an art class at some point in their lives. It's time to dig up the color wheel from your elementary school days to see where the colors fall. Any two to three colors that are right next to each other on the color wheel are bound to be good options for color blocking.
For example, purple, blue, and green are great choices because they come one right after the other in the color wheel. Keep in mind that whites, greys, and blacks are always good options for color blocking.
Try out a daring look with color blocking in your fall wardrobe this season. You'll be able to add bolder colors to your workout clothing without feeling overwhelmed by their intensity.